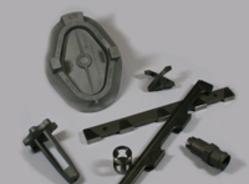 Machining industrial valves can get very expensive, especially when you start factoring in surface finishing and thermal treating. Precision Castings of Tennessee eliminates these hurdles by providing highly accurate, net-shape instrument valve castings without the use of machining.
Our valve castings are used throughout dozens of industries, including water treatment, dredging, automotive, and military. Our state of the art facility is capable of producing the following instrument valve castings in any size or level of sophistication:
gate valves
swing check valves
control valves
ball valves
butterfly valves
strainer castings
plug valves
knife gate valves
pump castings
globe valves
check valves
block and bleed valves
PCT can manufacture precision valve castings in any alloy, with complex internal geometries that other metalcasting methods cannot reproduce. In-house secondary machining, such as tempering and annealing, is available for instruement valves requiring elevated resistance to corrosion and abrasion.
Valve castings can be engineered in-house or fabricated from your existing design. To ensure the quality of your valve casting, PCT's in-house inspection and testing facility can verify dimensional accuracies, design tolerances, and structural integrity. Magnetic particle inspection and ultrasonic testing are also available.
Valve castings can be designed to meet any domestic or international standard.​