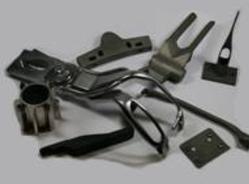 Efficient industrial food processing equipment manufacturing techniques and waste reduction capabilities allow PCT to offset the rising cost of stainless steel and aluminum. By eliminating most secondary machining, PCT's investment casting process can minimize the amount of metal used to fabricate stainless steel or aluminum castings used in dairy and meat food packaging and food processing machinery.
Our food processing parts and sanitary castings are lead-free and anti-microbial, meeting all FDA approvals for sanitary meat and poultry handling.
PCT's food processing industry experts can engineer new sanitary castings or redesign existing metal parts more efficiently. We specialize in converting multiple-part assemblies into single-piece, near-net shape food processing parts.