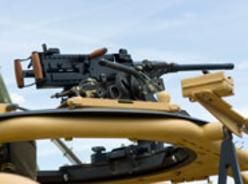 Investment casting is the only way to economically manufacture highly complex, lightweight military metal parts. PCT can effortlessly achieve the strict weight requirements and close tolerances typical of military designs; in most cases without secondary machining.
​Hundreds of our designs are actively employed in Operation Iraqi Freedom and Operation Enduring Freedom. Our Investment casting designs have drastically increased the accuracy, safety, range, and lethality of weapon systems and military vehicles.
With the complexity of today's military technology, manufacturers commonly convert existing metal parts into castings to reduce weight, increase structural integrity, and expand design possibilities. In addition, investment casting produces very little waste, making it the ideal solution for cost-effective mass production.
Award Winning Military Castings
A perfect example a PCT investment casting improving functionality is our recently redesigned M171 telescope and quadrant mount used on the M777 lightweight 155mm Howitzer. We successfully modified the geometry and alloy of the casting to handle increased weapon recoil without adding weight or reducing stability.
Through cryogenic treatment, we managed to increase dimensional stability, lower residual stress, and improve the overall toughness of the casting. For more information, visit our case studies page.
A Leading Military Casting Supplier
For over 5000 years, investment casting has played a significant role in producing "effective" military weapons. We continue that tradition by meeting all testing, heat treating, packaging, and labeling requirements outlined by military standards.
As an experienced military casting supplier, we've produced everything from ordnance shells to gear worm wheels. We're confident we can engineer new designs or convert existing parts to investment castings that improve reliability, lower costs, and save lives.