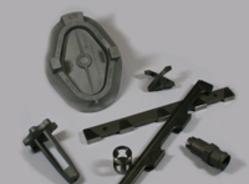 When pulp and paper plants need stainless steel, there are literally hundreds of companies to choose from. When they need the best, they call Precision Castings of Tennessee.
With 30 years experience in the pulp and paper industry, we know how to make your paper mill operate safer and more efficiently. We supply the pulp and paper industry with cost-effective, non-corrosive stainless steel castings used in clean outs, nozzles, and screening.
Our Gallatin, TN facility offers secondary machining capabilities that significantly increase resistance to heat and corrosion beyond stainless steel's as-cast state. These mechanical properties are especially useful for pulp & paper-specific long products.
Our casting conversion process adapts multiple part assemblies that previously required welding or mechanical fastening into stronger, single investment castings. Difficult or impossible to cast parts or castings with highly complex internal geometries can easily be converted to pulp and paper stainless steel investment castings.